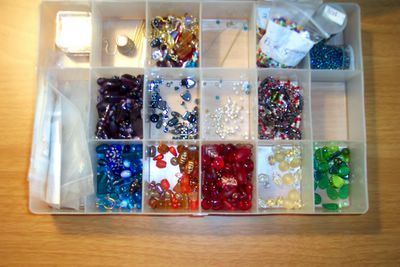 Recently, while searching in the basement for a screwdriver or hammer or some other tool related to "home improvement", I came across this box of beads. Sparkling like a pretty box of Christmas candy.
Memories of my one time beading hobby came flooding back. Why did I stop? Perhaps, because I never actually crafted a piece of jewelry that anyone would truly want to wear? Sure, my Mom smiled with delight as she tried on the dangly purple and blue earrings, with matching necklace, but that's what Mom's are supposed to do.
I'm thinking maybe I can salvage these lovlies and use them to make
fancy stitch markers
, or maybe a
row counting bracelet
. After all, if I can't make jewelry for people, I can certainly make it for my knitting.