Business trip. Crowded coach seats, flight delays, stuffy meeting rooms, bland hotel food, and lost luggage are the details that come to my mind. My brother-in-law, Scott, who doesn't travel in his job, is under the impression that business travel means first class seats, limo rides, free drinks, luxurious hotel suites, room service and lavish expense accounts. I always have to remind him that traveling for work is not at all glamorous. He nods and smiles but I know deep down he's thinking, "yeah right". Well Scott, this time your fantasy of business travel is a little closer to reality, if only just a bit.
Sure, I spent the day working the exhibit booth, located in a
parking garage,
if you can believe that. No, there was no limo, my tickets home still say coach, and I'm still waiting for that expense account, but the exhibit hall parking garage is located on the island of Puerto Rico, and today the weather was absolutely gorgeous. 80 degress, bright sunshine, and a little ocean breeze. And I heard a rumor that Boston is expecting 6-12 inches of snow tonight or tomorrow.
During lunch I was able to sneak away for a bit to sit with a view of the ocean waves, where I finished up the first of a pair of
mountain colors
socks. It was a bit disconcerting to be knitting such lovely warm wool in the caribbean sunshine, but enjoyable nonetheless. A few hotel guests stopped to comment, and one asked if I could knit flip-flops. Actually,
I can
, but that's for another day.
After spending a few more hours at the booth, trying to talk business, while thinking about the beach, I enjoyed a relaxing dinner at a rooftop restaurant in Old San Juan, with a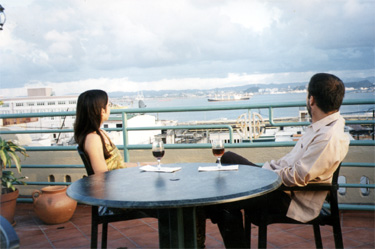 '>view of the glittering harbor full of unbelievably impressive cruise ships.
You know, if I had to miss the
rollin' rally
, this was a wonderful alternative.