Summer finally arrived today in Boston and I decided I was NOT spending another lunch hour sitting in the conference room eating questionable low-fat turkey salad and baked Lays chips from Archie's Deli. The temperature was near 80, and I needed to get out, stretch my legs and feel the sun on my face. What to do?
I thought about
Subway Knitter's
favorite
yarn shop
and decided, since it's only a block or two from my office too, I'd stroll on over and see if I could find something interesting to send to my secret pal. And maybe pick up some sock yarn for me. Of course.
I rode down the elevator and hit the street with every intention of turning left toward the yarn and buttons, but at the corner
this store
caught my eye. I couldn't resist the urge. The sun was shining, summer was in the air and my feet suddenly needed some cute sandals. So I turned right instead, and this is what I bought.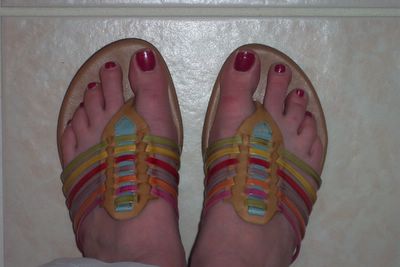 Just so you understand, I am not one of those women with a different pair of shoes for every outfit. I usually play it safe and buy the boring beige pumps or black flats. But this place, my lord, it is unbelievable. Three floors full of shoes, and honestly, I want them ALL. Between the yarn and the shoes I'm gonna need another job.